Alumni News
Have some exciting news to share?
We hope to hear from you, whether you've recently graduated from college, won a prestigious award, wed your sweetheart, have a new addition to your family through birth or adoption, or found your dream job! Oh, and we love photos...! Email:
alumni@edenca.org
News
Carter Smith ('14)
4/3/17
A junior at Allegheny College, Carter Smith, completed a successful indoor track season. READ MORE at TribLive.
Megan Musial ('07)
3/9/16
Associate Attorney, Schmidt Bresnahan Law Group, LLC January 2016 – Present
Megan Musial is an associate with Schmidt Bresnahan Law Group, LLC. Ms. Musial focuses her practice on family law and real estate.
Prior to the formation of Schmidt Bresnahan Law Group, LLC, Ms. Musial worked at Fiscus & Ball P.C. Ms. Musial also worked within the oil and gas industry as a title analyst at PVE Sheffer, based in Sewickley, PA.
Carter Smith ('14)
2/12/16
Carter Smith
, a sophomore at Allegheny College, is currently making a great strides on the men's track and field team.
CLICK
to read more at Post-Gazette.
Mary Margaret Folz ('13)
1/10/16
Mary Margaret Folz
, a junior biology major at Pitt , is currently training with the women's swimming team with the intention of competing next season.
CLICK
to read the TribLive article,
Eden Christian Grad Folz Looks to Make Waves on Pitt Women's Swimming Team
.
Vincent Smith ('12)
1/7/16
Vince Charming and his rabbit, Harry, recently performed their magic to a captivated audience of Eden elementary students. Vince is quite an accomplished magician, performing on a regular basis while at the same time finishing up his senior year in electrical engineering at Geneva College.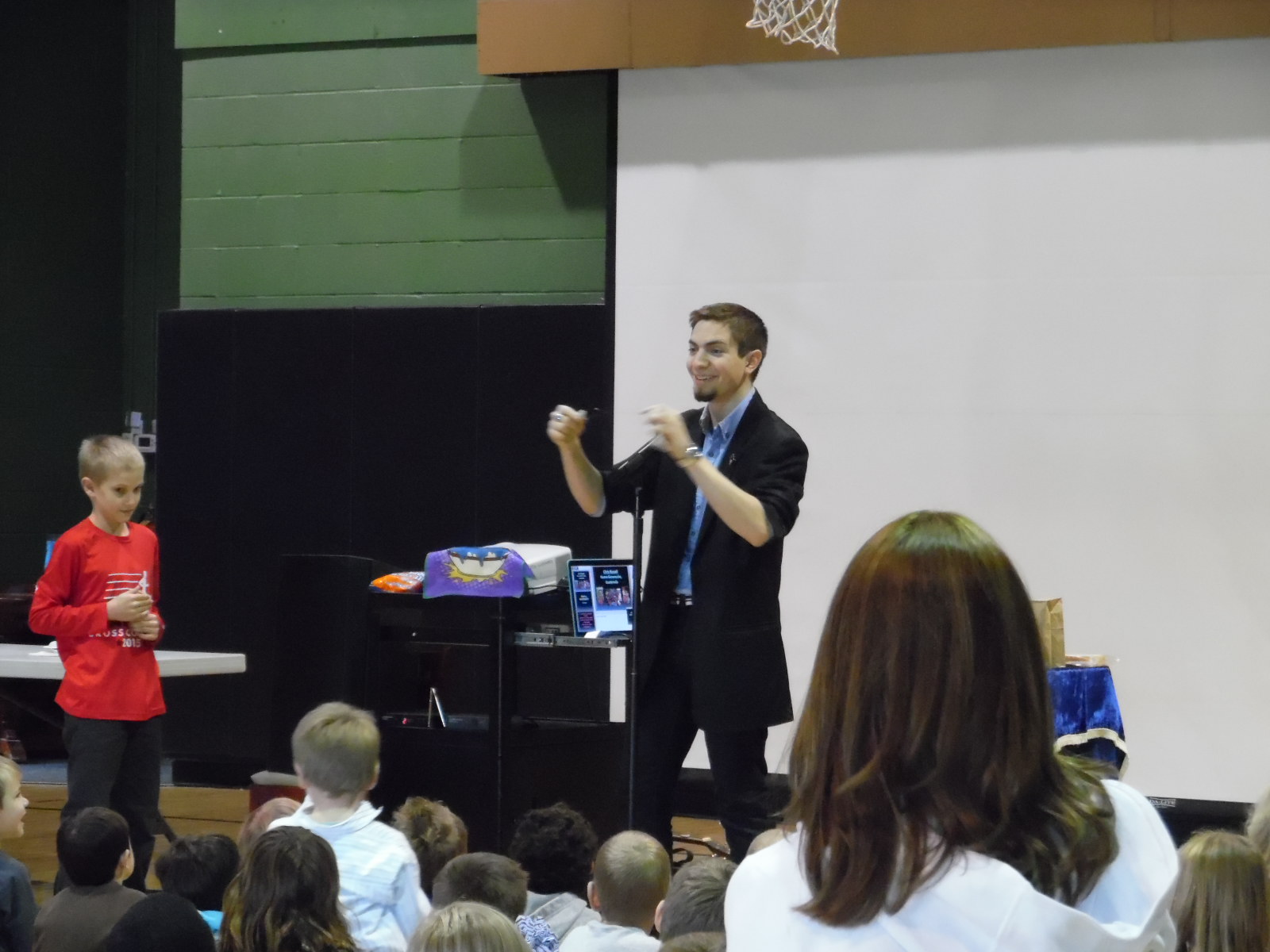 Alena Ricci ('12)
12/8/15
**UPDATE**
We give thanks that Alena is now home safely.
CLICK HERE
to read more.
9/17/15
We are praising God for His hand of protection over Alena Ricci as she was very near the earthquake that struck the country of Chile, where she is currently studying abroad. TribLive featured Alena's story, where Alena states, "God works in mysterious ways, and I cannot say anymore just how good he is to me," Ricci said. "I almost traveled independently with some other girls from my program, and if I would have, I would be missing right now. So God is very good." Read the full article HERE.
Jordan Kolarik ('10)
9/2/15
After graduating from Eden, Jordan Kolarik earned an AA in Bible from Central Bible College and a BA from Evangel University in Church Leadership in just 3 years. Jordan is back at Eden, but now he's on staff, teaching 7th grade Bible (The Life of Jesus) and 8th grade Bible (The Book of Acts) as well as teaching a PE class. He is also the head coach of the 7th and 8th grade soccer team, and will be coaching JV basketball this winter. About being back at Eden as a teacher, Jordan stated: "It is an absolute joy and privilege to be teaching at such an amazing place. It's so rewarding to be able to give back to a school that has given me so much personally. Eden played a significant role in my spiritual walk with Christ, and now I have the opportunity to teach students every single day on the very subjects and topics that changed my life!"
Chelsea Jennings ('09)
7/29/15
Chelsea Jennings graduated from Slippery Rock University in May 2015 with a Professional Writing Major and Literature Minor. She now lives in Spring Hill, Florida.
JD Laird ('13)
7/29/15
Shea Smith ('14)
7/29/15
Shea Smith
is making an impact for God's Kingdom both here and abroad!
CLICK HERE
to read more about and her remarkable mission trip to Thailand!
Alena Ricci ('12)
7/29/15
Alena Ricci
is spending time in Chile through December to study the Spanish language, literature, missions and the Chilean culture. Learn more about Alena's adventures and subscribe to her blog at:
http://thealenaxuan.wordpress.com/
Jordain Lamperski ('11)
7/29/15
Jordain Lamperski graduated from Pitt in May, and will be attending MIT (starting in fall 2015) to begin a PhD program in Operations Research.
Zachary Petrusch ('11)
7/29/15
Zachary Petrusch graduated in May2015 from Slippery Rock University and has a job lined up as a software developer at Bettis Atomic Lab out in West Mifflin.
Kodiak Siple ('11)
7/29/15
Kodiak Siple graduated from Geneva College in May, 2015 with a BSBA and concentration in International Business. He was accepted into the China Studies Program, where he studies for a semester at Xiamen University and interned with a Chinese tech company. He recently accepted a management position with the Xerox Corporation in Nashville.
Patrick Coyne ('10)
7/29/15
Patrick Coyne is in the Marine reserves through December 2015.
Kristin Clary ('10)
7/29/15
Kristin Clary is a stewardess with Delta Airlines and is based in Atlanta, GA.
Trenton Van Oss ('10)
7/29/15
Trenton Van Oss spent three years at Wheaton College and is now furthering his education at Harvard Law School
Andrea Harold ('10)
7/29/15
Andrea Harold received her Master's Degree in Occupational Therapy from Duquesne University in January 2015 and is getting married in September, 2015.
Aubrey Smith ('08)
7/29/15
Aubrey Smith earned her B.A. in Communications from Allegheny College in 2012 and graduated in May 2015 from Duquesne University School of Law. She will be sitting for the Pennsylvania Bar Exam at the end of July and working at Ainsman Levine, LLC, a downtown-based law firm focused on serving plaintiffs who have suffered serious injuries.
Megan Musial ('07)
7/29/15
Megan Musial graduated from Duquesne University School of Law and recently passed the Bar exam. She works for Fiscus & Ball, PC. Megan also volunteers and serves on the board of Christian Legal Aid of Pittsburgh along with Tom Smith (former Mock Trial advisor) and Aubrey Smith '08.
Weddings
Hannah Aluise Kohser '08
7/29/15
Hannah Aluise Kohser '08 married Benjamin Kohser on December 12, 2012. They live in Tarentum, PA with their son, Ben, Jr.
Jessica Catalano Murray'08
7/29/15
Jessica Catalano Murray'08 married Micah Murray on June 6, 2015.
Haley James Shull '10
7/29/15
Haley James Shull '10 married Robert Shull on October 5, 2013. Haley went to Liberty University in 2010, and is currently working for a real estate agent. She and her husband reside in Wexford.
New Additions
Kelly Harris Feitser '07
7/29/15
Kelly Harris Feitser '07 and her husband welcomed baby, Erik Feitser, on July 4, 2014.
Hannah Aluise Kohser '08
7/29/15
Hannah Aluise Kohser '08 and husband, Benjamin, welcomed baby Benjamin Kohser, Jr. on Nov 14, 2014.