Turn Your PA Tax Dollars into Eden Scholarships
You can direct your Pennsylvania state taxes to need-based scholarships through the PENNSYLVANIA EDUCATIONAL IMPROVEMENT TAX CREDIT (EITC) PROGRAM.
Watch this video about how you can participate and the impact of the Tax Credit Program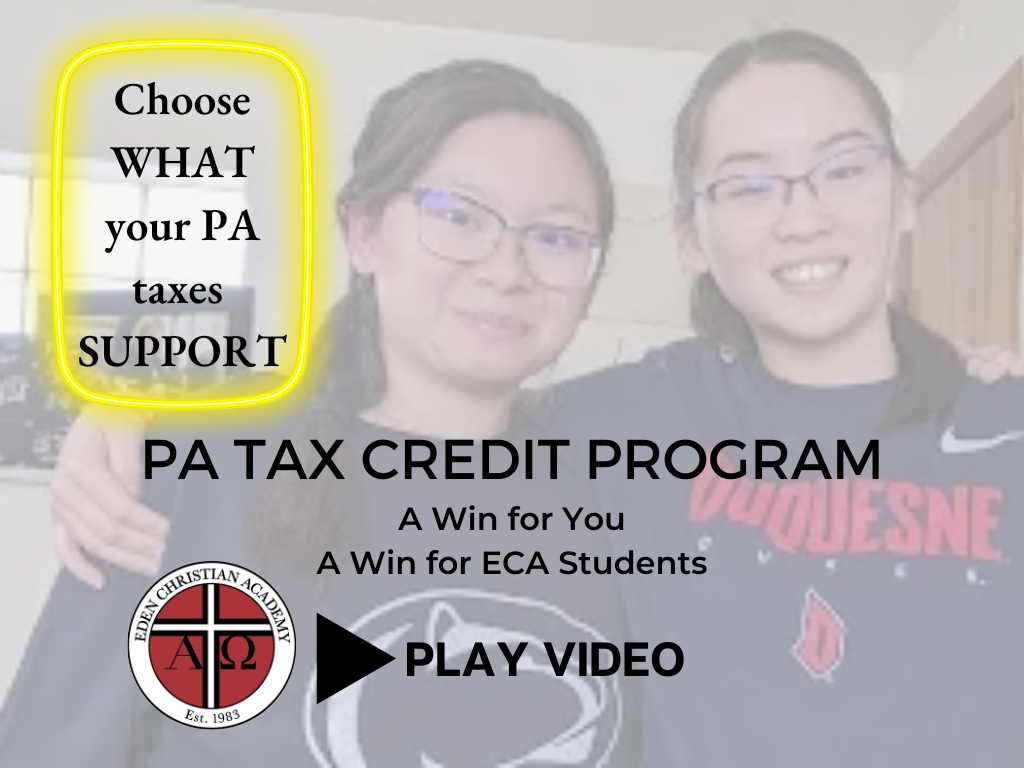 When you participate in EITC and support financial scholarships at Eden Christian Academy:
You increase the accessibility of Christian education for families who truly desire that their children be taught from a Biblical worldview.
You impact the ECA community by helping build a strong and diverse student body that benefits all our students and families.
You stand in commitment to our mission to educate students who will serve God and impact the world through Biblical thought and action.
Pennsylvania's EITC program enables individuals and corporations to reduce their tax liability by up to 90% while supporting the financial aid program at the private school of their choice.
Here's an example showing the difference between your EITC donation going directly to ECA, in contrast to where it would have gone otherwise (to Harrisburg and Washington, D.C.):

In short, by giving $10,000 through the EITC program, your out-of-pocket cost is $650 and EDEN CHRISTIAN ACADEMY receives the full $10,000. It's a true win-win!
ARE YOU READY? Contact ECA to enroll and make your contribution.
By Phone
412-364-8055
Questions about tax credits?
Please contact me!

Anna Aiken
Director of Development
aaiken@edenca.org
412-364-8055